Okay, I am a Ginebra fan dating back Robert Jaworski's era where the likes of Marlou Aquino, Noli Locsin and Bal David wreck havoc in the PBA in the 90's. I never changed team even though Ginebra was barely seen a title since the 2009 Fiesta Conference.
Well, the last time Mark Caguioa and company reached the finals was in 2011 Commissioner's Cup and they end up at the losing that finals stint to Talk and Text.
This year, they managed to grab the second finals spot in the same conference but lost easily via sweep courtesy of the Alaska Aces.
Alaska is a dominant team this year and there is no doubt that this team will win multiple titles in the future. They are arguably the best defensive and offensive team because they are composed of young and skilled players such as Calvin and Jayvee Casio.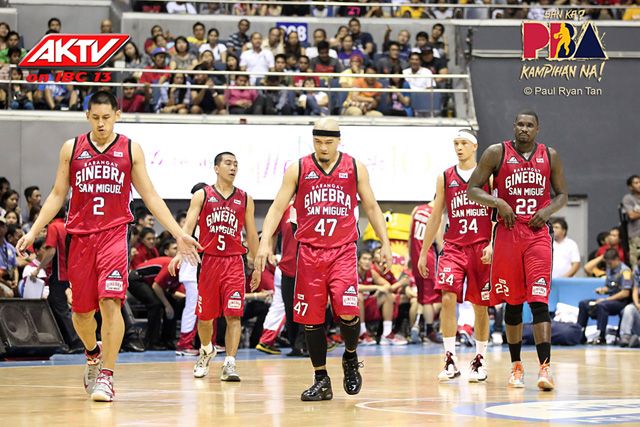 Image Credit: www.slamonlineph.com
Even though I am a Ginebra fan and they survived a lot of triumphs going into the finals, they are statistically no match with the aces in every department. The "never-say-die" spirit never showed in this finals showdown, which lost three games to none in all lopsided contests.
Another factor is the health of the team where import Vernon Macklin certainly hurt and Mark Caguiao not a hundred percent. Tenorio also got tentative in the fourth quarter and I also thought of some coaching lapses by Alfrancis Chua on that sequence. The result is the Aces broom on the Kings.
I am not taking any credit away from the aces due to the injuries suffered by Ginebra because the Aces are completely a different breed of team and the Kings are obviously outclassed. Congratulations to Alaska!
I think that the only recourse for Ginebra now is to inject some young legs that can take shots. Players such as Jeff Chan or Ranidel de Ocampo will do. Although Ginebra showed a lot of heart battling do-or-die games in four occasions and survived, the problem is the age of the team and it needs to be re-shaped.
I am not telling that Mark should be traded, he's practically the heart and soul of this team. Maybe the time is come for Mark and JayJay to pass the torch to other young players such as Tenorio or maybe Chris Ellis, and carry the fight for Ginebra.
For coaching, Alfrancis did a great coaching job for Ginebra this conference. A little more time perhaps before this team can mature and possibly grab a title of their own.
So for me and for millions of Ginebra fans, better luck next time!